Pas de collections, mais UNE collection et de la nouveauté !
Deutsche Version
English version
La marque se redéfinit et vous dévoile aujourd'hui une première étape de cette métamorphose: plus de collections chez tem pimenta !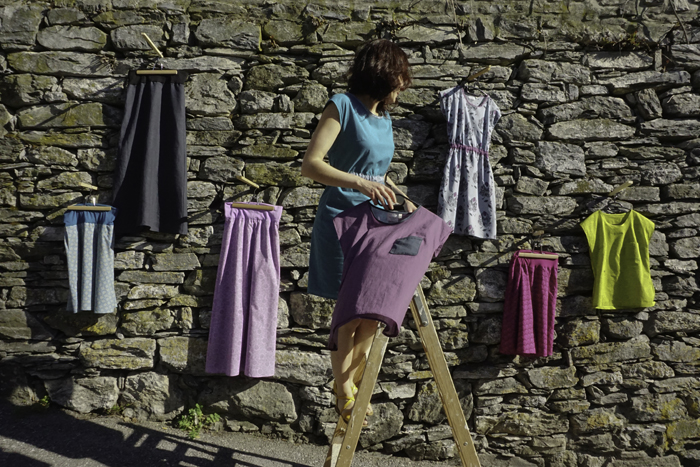 En effet, chaque collection, c'est un ensemble de pièces cohérentes mais par définition, sa durée de vie est limitée. Une fois la date fatidique dépassée, les vêtements « perdent » de la valeur et une partie, plus ou moins grande, finit irrémédiablement à la poubelle.
En adéquation avec son engagement écologique, tem pimenta ne souhaite plus produire de déchets inutiles, des surplus de tissus inutilisables, de vêtements « démodés ». C'est pourquoi elle se refuse aujourd'hui à définir un laps de temps correspondant à ses créations.
Autrefois, la mode fonctionnait avec deux collections par année : une réunissant printemps et été, l'autre automne et hiver. Actuellement, la « fast fashion » imposée par les grandes marques de prêt-à-porter dicte son rythme effréné et de nouvelles collections sont présentées chaque mois, voir chaque semaine. En résumé, lorsque vous franchissez le seuil du magasin avec votre nouvelle acquisition vestimentaire, vous êtes déjà démodé.
A contre courant, tem pimenta souhaite ralentir. Là où la fast fashion vous culpabilise de ne jamais être à la mode et vous pousse à acheter toujours plus, tem pimenta, comme d'autres labels engagés, souhaite vous rassurer, vous dorloter en vous proposant une gamme qui évolue organiquement, tout comme vous.
L'idée n'est donc pas de se figer et d'être une marque ennuyante et vieillotte. La nouveauté sera toujours de la partie!
Tout ceci pour vous introduire quelques nouvelles pièces en ce mois d'avril printanier. Peut-être reconnaîtrez-vous les tissus de tem pimenta, conjugués aujourd'hui avec de nouvelles coupes.
Cette année, la couture est momentanément délocalisée… en Suisse!
Les vêtements sont cousus sur demande, ce qui vous permet de choisir LA combinaison de tissus à vôtre goût dans la sélection proposée. En ce qui concerne les tailles, l'année dernière, la taille 44 avait été ajoutée, cette année, c'est la taille 34 qui fait son apparition.
Vous souhaitez découvrir ces nouvelles pièces en vrai ?

Visitez le stand de tem pimenta au marché de la mode alternative, le 22 avril de 11h à 18h. Cette manifestation est organisée dans le cadre du 75ème anniversaire de la société de développement Edelweiss à Chalais (région de Sierre).


Keine neue Kollektion, aber andere Neuigkeiten !
Die Marke definiert sich neu und der erste Schritt dieser Entwicklung heisst : keine Kollektion mehr bei tem pimenta!
Eine Modekollektion ist eine Sammlung kohärenter Kleidungsstücke mit begrenzter Lebensdauer. Nach einem bestimmten Zeitpunkt « verlieren » die Stücke ihren Wert und finden keine Käufer mehr.
Im Einklang mit unserem Engagement für die Umwelt will tem pimenta keinen unnötigen Abfall, keinen unbrauchbaren Überschuss an Stoffen und keine « unzeitgemässe » Bekleidung mehr produzieren. Deshalb weigern wir uns fortan, einen Zeitrahmen für unsere Kreationen zu definieren. Früher haben Modehäuser mit zwei Kollektionen pro Jahr gearbeitet: eine Frühlings-/Sommerkollektion und eine Herbst-/Winterkollektion. Derzeit diktieren die grossen ready-to-wear Marken der "Fast Fashion" ein hektisches Tempo und neue Kollektionen werden jeden Monat oder sogar jede Woche auf den Markt geworfen. Anders ausgedrückt : Sobald Sie den Laden mit Ihrem neuerworbenen Kleidungsstück verlassen, ist es bereits veraltet. tem pimenta schwimmt gegen den Strom und möchte den Prozess verlangsamen. Während Ihnen die « Fast Fashion » das Gefühl gibt, nie ganz auf dem neusten Stand der Mode zu sein und Sie damit zu immer neuen Käufen antreibt, will tem pimenta wie andere, ähnliche Labels Sie in Ihrer Wahl bestätigen und Sie mit Angeboten verwöhnen, die sich – genau wie Sie selbt – harmonisch weiterentwickeln.
tem pimenta will aber keinesfalls stehen bleiben und immer dieselben Stücke anbieten. Im Gegenteil, Neuheiten sollen weiterhin im Zentum unseres Angebotes stehen.
In diesem Frühlingsmonat April möchten wie Ihnen deshalb einige Neuheiten vorstellen. Vielleicht erkennen Sie tem pimenta-Stoffe, kombiniert mit neuen Schnitten.
Ab diesem Jahr werden die Stücke vorläufig in der Schweiz hergestellt. Die Kleider werden auf Bestellung genäht, was Ihnen erlaubt, je nach Geschmack Ihre eigene Kombination in der vorgeschlagenen Auswahl zusammenzustellen. Letztes Jahr haben wir Grösse 44 ins Angebot aufgenommen, in diesem Jahr ist es Grösse 34.

Sie möchten die neuen Stücke sehen und anprobieren? Besuchen Sie den tem pimenta-Stand anlässlich des alternativen Modemarktes, Samstag den 22. April von 11 bis 18 Uhr. Dieses Event findet im Rahmen des 75. Jahrestages der Société de Développement Edelweiss in Chalais (Region Siders) statt.
——————————————————————————————————————————————————————————————
No more collections, but ONE collection and other news!
The brand has redefined itself and here is the first stage of this metamorphosis: no fashion collection at tem pimenta any more!
Each collection is a set of coherent pieces but by definition, its lifespan is limited. Once the fateful date is passed, the clothes « lose » their value and a more or less important part has to be thrown out.
In line with its ecological commitment, tem pimenta no longer wishes to produce unnecessary waste, unusable fabric surplus, or « old-fashioned » clothing. This is why we have decided to refuse from now on to define a lapse of time corresponding to our creations.
Formerly, fashion was working with two collections per year: one for spring and summer, the other for fall and winter. The current fast fashion trend imposed by the major ready-to-wear brands dictates its unrestrained rhythm. New collections are available each month, or even each week. Therefore, when you leave the shop with your new acquisitions, they are already out-dated.
tem pimenta on the other hand wishes to slow this process down. If fast fashion makes you feel like you are never quite up to date in fashion and urges you to buy more and more, tem pimenta, like other similar labels, wants to reassure you and pamper you by proposing a range that evolves organically, just like you do.
So the idea is not to freeze and to be a boring and old-fashioned brand. The novelty will always be part of the picture!
We are happy to present some new pieces in this spring month of April. Perhaps you will recognize the tem pimenta fabrics, combined today with new cuts.For this year, the confection of the pieces is temporarily relocated … in Switzerland!
The garments are sewn on request, allowing you to choose the combination of fabrics to your taste in the selection offered. As for sizes, last year, size 44 was added, this year it is size 34 that is making its appearance.
Want to discover these new pieces in real? Visit the tem pimenta booth at the alternative fashion market, Saturday 22 of April from 11 to 6 pm. This event is organized as part of the 75th anniversary of the Edelweiss development company in Chalais (Sierre region).